The foundations of Provans Timber and Hardware, can be traced back to Melbourne of the 1880s. Near the end of that decade, David Provan commenced work in Fitzroy at John Stone & Co., Timber Merchants of Abbotsford.
He became the joinery foreman, but with an eye to the future, he and two workmates agreed to establish their own business at the first opportunity.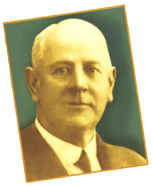 In 1903 the partners opened Mulready, Provan and Clarke.
Their yard was located on the south side of Alexandra Parade where the British United factory now stands, and also at Fitzroy railway siding.
The business thrived over the next 20 years. But on October 27, 1923, disaster struck. Fire destroyed the yard and badly damaged the mill. The damage was estimated at 25,000 pounds, and while insurance was paid, talks were held whether to carry on.
Mr Clarke, an older man, decided to withdraw, as did Mr Mulready. They were paid out and David Provan, with the help of sons Bob and Ed, restarted as David Provan and Sons. From among the ashes, a saw bench was salvaged and a considerable amount of timber, which was re-cut. A businessman named MacRobertson had just built a new factory in Smith Street, for which Provans had done the joinery work.
Mr MacRobertson allowed Provans use of space within his factory until their premises at 62 Alexandra Parade were ready. Within a year, they relocated to where the business stood until 2015. They also had two hardwood yards on Alexandra Parade, between Blanche and Emma Streets, and on the Alexandra Parade/Gold Street corner.
When David Provan died in 1931, youngest son Albert joined the business and he Bob and Ed ran it together. Bob died in 1961 and Ed and Bert carried on. There were 13 grandchildren, of which six boys did their apprenticeship in the business. By the time Ed was 66, all six had left to start their own businesses, and Ed and Bert felt it was time to sell.
The Rosenberg family bought the business and property in 1966, and still own it today.
A big decision was which name to trade under. They decided that the Provans name was so highly regarded in the area and it should be retained.
A local renovator named Peter Collet, now a successful sculptor, walked in, wanting a particular moulding to be matched.
Not only did the company provide what he needed, but realised a whole new market was opening up before them – matching existing skirting and architraves for the booming renovation scene.
Provans is still a leader in this field today, and in 1994 split the wholesale side of operations from retail, forming Period Timber Mouldings (Aust) Pty Ltd.
In a near-century of service, Provans has made an astonishing range of products, from doors, cabinets and stairs to roof trusses, flagpoles and church furniture.
During World War 2, it manufactured tent-poles for the US Army, bomb crates and 25lb practice cannon shells. Made of Queensland Maple with brass ends, they had to be of the same weight as the real thing so the gun crew could practice adding quickly and safely.
The staff has had many Provans, including Alan, Jack, Ken, David and Greig. Alan, Greig and Frank Marr were long-term yardmen. Matt Ryan and Tom Cochran drove trucks, and motor mechanic Bill Kennedy kept them going. The two Freds, Neilson and Jenkins headed up a fine team of wood machinists, including Jack O'Halloran and the "Saw Doctor" Rupert Ziegler.
More than 30 joiners worked at different times, including George Hind, Albert Waters, Joe Tench, Ern Tait and Bert Johnson who specialised in vats for the leather industry.
Since the Provan family sold the business in 1966, other long-term employees have included joiners Joe Bole and Peter Murphy, machinists Jack Hayes and Jim Leyden, and John Dehighden, in charge of the yard for many years.
Barry Rosenberg who bought the business in 1966 is still very involved in the day-to-day operations. His father Mendy although not involved for many years, was always keen to know how the business was going right up until he passed away in 2008.
Just like all past long term employees, the current long term employees, Greg Heverin 1978, David Nan 1991, Robert Procter 1995 and Paul Calleya 1996 have all made and continue to make a vast contribution to the success of the business today.
In 2015, a Government proposal to build an East West Link tunnel, saw the compulsory acquisition of the property at 62 Alexandra Parade and the subsequent move of some 400 metres down Alexandra Parade to a new premises at 457 Hoddle Street.
Retailing is a competitive business, but we look to sustained growth and success by continuing to offer a superior level of customer service.