Welcome to Provans Timber & Hardware where you'll find all your building needs in one place. From renovations, extensions through to getting a quote on your Architectural plans you can find it right here.
News & Tips
handymanofmelbourne.com.au/franchise Meet Tim, the Handyman of Melbourne. You may have seen his vehicle getting around town, as he services our community with all their handyman and carpentry needs. As the quality of Tim's work has become synonymous with his clients satisfaction (you only have to read his testimonials), it was a no-brainer for Provan's to Read more…
Provans is currently open to Trade Only Customers, as at 6th August 2020.    Our hours of operation are: Monday to Friday 6:30am – 5pm, Saturday 8:00am – 1:00pm Covid Safe Guidelines are in place: Face masks or shields must be worn at all times whilst shopping in our store Social Distancing 1.5 metres at Read more…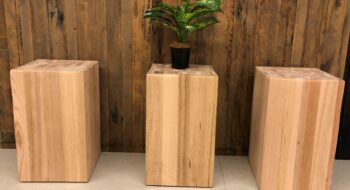 Our Supplier of Tasmanian Oak Flooring has found a way to re-purpose the shorts that would normally go to waste, when machining their flooring.  They build a frame and laminate the short pieces around the frame and then create a block (resembling a chopping block) for the top and bottom. They then add four Read more…
From our Instagram
Stay up to date
Follow Provans on Facebook
Follow us online to stay up to date with the latest specials, events and Provans News.