Welcome to Provans Timber & Hardware where you'll find all your building needs in one place. From renovations, extensions through to getting a quote on your Architectural plans you can find it right here.
News & Tips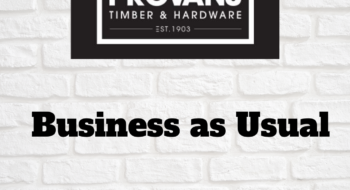 Monday 23rd March 2020 After today's announcements, we are open "Business as Usual" to service our customers in store and via delivery. We have implemented increased hygiene in store with constant wiping of our counters and surfaces as well as marking our floors with an X across our counters signifying 1.5 metre social distancing requirements. We will Read more…
Follow this link to find our why Wood is Good Make it Wood Read more…
From our Instagram
Stay up to date
Follow Provans on Facebook
Follow us online to stay up to date with the latest specials, events and Provans News.