At Provans Timber and Hardware, we stock Jarrah Flooring as supplied as a verandah grade, tongue and groove flooring in set lengths. It is most commonly laid vertically in even lengths as it frames the house on a traditional verandah.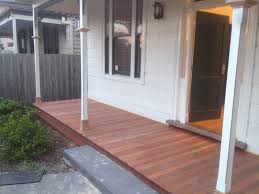 Jarrah is also available as an interior flooring in a standard and select grade in two widths, which we can order in as a job lot. It holds a Janka rating of 8.5 and is very rich in reds and browns, with some occasional blonde pieces.
Please come and visit our Showroom to see our Jarrah Flooring display. Alternatively, you can speak with our friendly staff to request a quote.